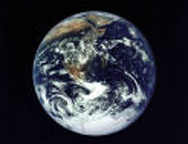 Hubble's-eye view of Earth
How is the UN involved in the peaceful uses of outer space?
Why would an organization like the United Nations, which concerns itself with such pressing "earthly" matters as preventing armed conflict, promoting economic and social development, responding to human emergencies produced by the outbreak of war and by natural disasters -- also concern itself with the uses of outer space? This unit provides information about the potential of space technologies to help further the goals of the UN and its agencies. How is space technology related to the UN's goals to improve life on our planet? Click on the "reading passage" below to find out.
The unit contains exercises in reading comprehension, listening, and grammar. In addition, the unit offers practice writing task on writing a brief summary of a longer text. As always, all exercises provide information about the work of the United Nations as they also provide language practice.