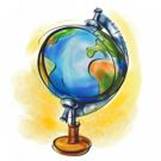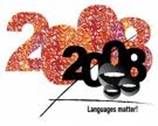 Languages matter!
In the sixty-first session, the UN General Assembly proclaimed the Year 2008 the International Year of Languages. The Organization took this step to highlight the importance of preserving multilingualism and the diversity of cultures around the world.
Below is an excerpt from the UN document proclaiming 2008 the International Year of Languages:
GENERAL ASSEMBLY PROCLAIMS 2008 INTERNATIONAL YEAR OF LANGUAGES,IN EFFORT TO PROMOTE UNITY IN DIVERSITY, GLOBAL UNDERSTANDING
The General Assembly this afternoon, recognizing that genuine multilingualism promotes unity in diversity and international understanding, proclaimed 2008 the International Year of Languages. (click for complete document)
To celebrate the International Year of Languages, the UN Language and Communications Programme, under the direction of Officer-in-Charge, Javier Zanon and team has organized some special activities during the spring and fall of 2008:
Speaking Tables- staff chat during lunch in one of the six languages (that is other than the native language) (listen to the UN radio programme)Click for a programme transcript


Counting Languages at the UN – number of languages spoken by staff (listen to the UN radio programme)


Authors' readings for literacy – authors do readings form their work and put their books in the service of the cause of literacy (listen to a UN radio interview with renowned author, Paul Auster and read the interview transcript)
click here to link to photos and excerpts from readings

click here to listen to a UN radio interview with Peter Singer, author of the book, The Life You Can Save: Acting Now to End World Poverty


Authors readings/Reception/International Mother Language - Click here for some pre and post-reading photos
Book Fair for Literacy and the Literacy Projects it supports – UN staff donate books to an annual Book fair to support literacy projects
(click here to see photos of the projects)
(click here to see photos from past book fairs)
(click here to listen to a radio programme about the projects)

The UN Decade for Literacy 2003 - 2012

A celebration of the World's languages

Did you know that virtually all languages -- no matter how different -- have an interesting feature in common?
That feature is the use of metaphor. A "metaphor" is a way of explaining something abstract in terms of something concrete, i.e. something that is experienced through our five senses and part of our everyday experience:
For example, all languages have metaphors that:
Show "time" in terms of movement through space (along a "time line" with "distant" dates "far" in the future" or "nearby" dates "coming up soon".
Show importance in terms of size: all languages describe "important events" as "big" (i.e., "it's a "big day for our team", less important ones as "small" (e.g., "it's just a small, unimportant detail")
Show positive emotions in terms of "brightness" or "higher temperature" ("Her smile "lights up" the room", "He is a very warm person"), less positive ones in terms of "dullness" or "coldness" ("After she left, his world went gray", "He can be as cold as a fish")

Show difficulty or ease in terms of "hardness" or "softness", "bitterness" or "sweetness" ("go through a hard time", "have a soft job", "have a bitter experience", and "know sweet success")
(Above information on "metaphor" is from a presentation by Prof Carmen Betones, University of Almeria, curso de verano 2008, Fine Art, Language, and Synesthesia)
Think about your own language. What are some typical phrases that show examples of one or more of the above metaphors?


Each individual who uses language may have personal ways of coding metaphors.

For example, language metaphors describe time in spatial terms. Many languages have the metaphor of a "wheel of time", "life as a journey along a road" or "time line" with an embellished "time landscape"). Many people report visualizing an internal calendar or "time landscape", a personalized image of time. A year as one such circle is a popular image.

According to scientist Stanislas Dehaene (author of The Number Sense and research scientist at INSERM in France), "a majority of people have an unconscious mental number line oriented from left to right… Between 5 per cent and 10 per cent of humanity is convinced that numbers have colors and occupy very precise locations in space". Such personal visualizations can extend to internal time lines and even an internal "alphabet line".

According to the reading passage above, a majority of people experience the language of numbers as an internal "number line" or "time line" with a sense of dimension. For between 5 and 10 per cent, these internal "lines" can be embellished with color or shapes other than lines. Some people can also experience an internal "alphabet line". http://en.wikipedia.org/wiki/Number_form).

Below is a description of the "alphabet landscape" of the great twentieth century fiction writer, Vladimir Nabokov. Nabokov visualized an internal alphabet with color and texture (that he imagined himself moving through). The colors of the alphabet letters varied in the different languages he knew):
"the long a of the English alphabet has for me the tint of weathered wood, but a French a evokes polished ebony…[there is] the fluffy-gray, three-stemmed Russian letter that stands for sh….In the green group, there are are alder-leaf f, the unripe apple of p and pistachio t. Dull green, combined somehow with violet is the best I can do for w. The yellows comprise various e's and i's, creamy d, bright golden y and u, whose alphabetical value I can express only by brassy with an olive sheen…."
--from Speak Memory, (Vladimir Nabokov's autobiography)

Interview someone you know. Ask if s/he visualizes a time line, a number line, or an alphabet line.